Bacon and Mushroom Tagliatelle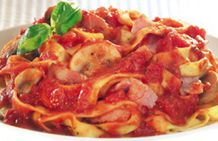 Preparation time: 15 minutes
Cooking time 15 minutes
Serves 4
Ingredients
8oz/250g x smoked bacon, cut into small pieces
4 x button mushrooms, sliced
1 x onion, peeled and diced
1 x clove garlic, peeled and finely chopped
1 x sliced courgette (optional)
400g tin chopped tomatoes
½ glass red wine
1 x chicken stock cube dissolved in a little hot water
Good pinch of Italian herbs
1 x tbsp tomato purée
1 x tsp sugar to taste
Salt and pepper to taste
Thickening granules if necessary
1 x tbsp crème fraîche (optional)
Tagliatelle, cooked and drained
Olive oil for frying
Garnish - Grated parmesan cheese and chopped basil leaves (if suitable for the dysphagic patient) to serve
Method
Heat the oil and fry the bacon for 1-2 minutes in a frying pan. Drain any excess liquid which may be salty.
Add a little more oil if necessary and add the onions and garlic and fry for few minutes.
Add the mushrooms (and courgette if used) and fry for a further 1-2 minutes.
Add the wine and heat for a few minutes.
Add the chopped tomatoes, stock and the tomato purée. Bring to the boil, stirring.
Simmer for 5 minutes.
Check seasoning and add sugar and thickening granules if necessary.
Add crème fraîche (if used) and heat through.
Combine the sauce with the cooked tagliatelle and spoon onto plates.
Sprinkle with grated parmesan and, if used, basil.