Butternut Squash and Ginger Soup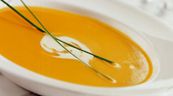 Preparation time: 15 minutes
Cooking time: 30-45 minutes (4-5 hours if using slow cooker)
Serves 4
Ingredients
1 x onion, peeled and diced
2 x cloves garlic, peeled and finely chopped
1 x butternut squash, peeled, deseeded and chopped
1½ x pints/850ml vegetable stock
Good pinch of ginger
Good pinch of nutmeg
Good pinch of chilli flakes
Good pinch of dried parsley
Salt and freshly ground pepper
Olive oil for frying
Garnish - 4 x tbsp crème fraîche
A few fresh chives (if suitable for the dysphagic patient)
Method
Sauté the onion and garlic in the oil for 5 minutes covered, without browning.
Add the butternut squash, ginger, nutmeg and chilli. Cover and continue to cook for a further 10 minutes stirring occasionally to prevent browning.
Add the stock and parsley, bring to the boil and simmer for 20 minutes or until the squash is tender.
Check seasoning.
Purée the soup with a hand blender or in a liquidiser.
Reheat to serve, and stir in a swirl of crème fraîche and arrange a criss-cross of chives on the top if used.
Carrot and Coriander Variation
Omit the nutmeg and ginger and to replace the squash with 1lb/500g sliced carrots, a diced potato and 1 tsp crushed coriander seeds.