Fish Soup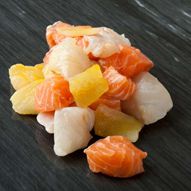 Preparation time: 15 minutes
Cooking time: 20 minutes
Serves 4
Ingredients
1 x onion, peeled and diced
1 x clove garlic, peeled and finely chopped
1 x stick celery, finely sliced
Olive oil for frying
Good pinch dried thyme
Good pinch dried oregano
2 x bay leaves
1 x tbsp tomato purée
400g tinned chopped tomatoes
Pinch chilli powder
250g x mixed fish (e.g. coley or cod, smoked haddock and salmon), roughly chopped (ready mixed packs are available from most supermarkets as fish pie mix)
Salt and freshly ground pepper
Garnish - Small cubes of bread (if suitable for the dysphagic patient) or thick slices of bread for dipping in the soup
Method
Fry onions, garlic, celery and chilli in hot oil.
Add the tomato purée and the tinned tomatoes.
Add the thyme, oregano and bay leaves.
Simmer gently for 5 minutes.
Remove bay leaves and allow mixture to cool a little before blending with a hand blender or blend after step 9 if fish needs to be blended too.
Add the mixed fish to the pan and bring it back to a simmer.
Cover and simmer for a few minutes until the fish has cooked through.
If the soup is too thick, simply add a little water.
Check seasoning.
Mix in cubes of bread if suitable so they absorb the broth and become soft and moist.