Green Pepper Soup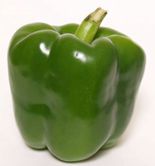 Preparation time: 15 minutes
Cooking time: 30-45 minutes (4-5 hours if using slow cooker)
Serves 4
Ingredients
1 x onion, peeled and diced
1 x clove garlic, peeled and finely chopped
3 x green peppers, deseeded and chopped
1 x potato, peeled and diced
1 x pint/560ml vegetable or chicken stock
1 x small glass of dry white wine
Good pinch cumin
Good pinch ground coriander seeds
Good pinch chilli flakes
Salt and freshly ground pepper
Olive oil for frying
Good splash of coconut milk and 1 tbsp dried milk
Garnish - Chopped coriander leaves (if suitable for the dysphagic patient)
Method
Sauté the onion and garlic in the oil for 5 minutes covered, without browning.
Add peppers, potato, cumin, coriander and chilli and cook for further 2-3 minutes.
Add wine and boil for a few moments to burn off the alcohol.
Add the stock, bring to boil again and simmer for few minutes until peppers are soft.
Check seasoning.
Purée the soup with a hand blender or in a liquidiser.
Add coconut milk and dried milk.
Check seasoning.
Re-heat to serve with fresh chopped coriander, if used.