Pork Stroganoff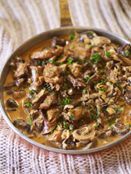 Preparation time: Less than 15 minutes
Cooking time: Less than 30 minutes
Serves 4
Ingredients
2 x pork sparerib chops, boned and cut into very thin strips
1 x onion, peeled and diced
1 x clove garlic, peeled and finely chopped
2 x button mushrooms, sliced
1 x red pepper, deseeded and diced
Pinch of chilli flakes (or hot paprika if you prefer)
Glug of brandy (or dry sherry)
1 x chicken stock cube dissolved in a little hot water
1 x small pot soured cream
1 tsp wholegrain mustard
Lemon juice (if needed)
Chopped parsley
Thickening granules (if required)
Salt and pepper to taste
Olive oil for frying
Garnish - Chopped parsley leaves (if suitable for the dysphagic patient)
Method
Fry onions, chilli (or paprika) and garlic in hot oil, then add mushrooms and red pepper. Fry for few minutes.
Add pork strips. Fry until browned.
Add brandy (or sherry) to deglaze the pan.
Add stock and mustard.
Add soured cream and heat through gently without boiling or sauce will curdle.
Stir in thickening granules if required.
Adjust seasoning and add lemon juice if required.
Remove from heat and stir in chopped parsley and serve on bed of rice, garnished with parsley leaves, if used.
Variations
Replace pork with prawns, but omit mustard. Can be served with cooked fine-cut egg noodles.