Quick and Easy Prawns with Pasta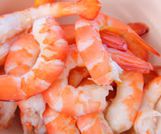 Preparation time: Less than 15 minutes
Cooking time: Less than 30 minutes
Serves 4
Ingredients
6oz/200g x large cooked prawns
1 x onion, peeled and diced
1 x clove garlic, peeled and finely chopped
Pinch of chilli flakes
Glug of brandy (or dry sherry)
½ glass white wine
1 x chicken stock cube dissolved in a little hot water
1 x tbsp tomato purée
2 x bay leaves
Good pinch Italian herbs
1 x small pot crème fraîche
Lemon juice (if needed)
Parmesan, grated
Thickening granules (if required)
Salt and pepper to taste
Olive oil for frying
Pasta of your choice
Method
Cook pasta according to instructions.
Meanwhile, fry onions, garlic and chilli in hot oil.
Add brandy (or sherry) and white wine to deglaze the pan and burn off the alcohol.
Add stock, purée, herbs and bay leaves and simmer to reduce.
Add crème fraîche and prawns and heat through.
Stir in thickening granules if required.
Adjust seasoning and add lemon juice if required.
Remove bay leaf.
Add cooked pasta and parmesan and heat through.
Serve immediately.