Rich Beef Stew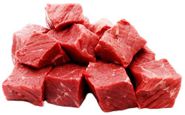 Preparation time: 15 minutes
Cooking time: 4-6 hours in slow cooker
Serves 4
Ingredients
1lb/500g x cubed stewing steak
1 x carrot, peeled and sliced
4 x button mushrooms, sliced
½ x red pepper, deseeded and diced
1 x onion, peeled and diced
1 x clove garlic, peeled and finely chopped
Pinch of chilli flakes
Glug of brandy
½ glass red wine e.g. Shiraz or Cabernet Sauvignon (optional)
1 x Oxo cube dissolved in a little hot water
1 x tbsp tomato purée
Glug of Worcestershire sauce
½ x tsp Marmite
2 x bay leaves and good pinch thyme or bouquet garni (mixed herbs e.g. bay leaf, thyme, parsley tied up with string)
Thickening granules (if required)
Salt and pepper to taste
Olive oil for frying
Method
Fry onions, garlic and chilli in hot oil.
Add mushrooms, carrot and red pepper and soften a little.
Place in a slow cooker.
Brown cubed steak on all sides and place in the slow cooker.
Add brandy and wine if used to the frying pan to deglaze.
Add Oxo cube broth, purée, Marmite and Worcestershire sauce.
Heat through and add to slow cooker.
Add thyme and bay leaves or bouquet garni to slow cooker and cook on high for 4-6 hours, stirring occasionally.
Stir in thickening granules if required.
Adjust seasoning.
Remove bay leaves or bouquet garni.
Serve with mashed potato and a green vegetable of your choice.
Variations
This recipe can also be made with minced beef and topped with mashed potato and grated cheddar cheese for a tasty cottage pie.
Omit chilli, Oxo, Worcestershire sauce and Marmite and add a tin of chopped tomatoes, ½ tsp paprika, a good pinch of cumin, extra tomato purée and small pot of soured cream for a goulash type dish served with boiled rice.