Spicy Parsnip Soup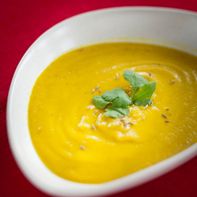 Preparation time: 15 minutes
Cooking time: 30-45 minutes (4-5 hours if using slow cooker)
Serves 4
Ingredients
1 x onion, peeled and diced
1 x clove garlic, peeled and finely chopped
1lb/500g x parsnips, peeled and chopped
1 x potato, peeled and diced
1 x pint/560ml vegetable or chicken stock
1 x small glass of dry white wine
Good pinch cumin
Good pinch turmeric
Good pinch ginger
Salt and freshly ground pepper
Olive oil for frying
Garnish - Chopped coriander leaves (if suitable for the dysphagic patient)
Method
Sauté the onion and garlic in the oil for 5 minutes covered, without browning.
Add parsnips, potato, cumin, turmeric and ginger and cook for further 2-3 minutes.
Add wine and boil for a few moments to burn off the alcohol.
Add the stock and bring to boil again and simmer for 10-15 minutes until parsnips are soft.
Check seasoning.
Purée the soup with a hand blender or in a liquidiser.
Check seasoning again and enrich with dried milk if required.
Re-heat to serve with fresh chopped coriander, if used.
Note: Cumin, turmeric and ginger can be replaced by curry powder.