Alex's "Wackymole"
(Variation on a Prawn Cocktail with Guacamole)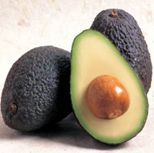 Alex "refined" this recipe over many years. It does not look very appetising due to its colour changing when balsamic vinegar is added, but was regarded by all as a very delicious starter. I could never make it taste as good as when he made it though!
Preparation time: 15 minutes
Cooking time: none
Serves 4
Ingredients
1 x ripe avocado, stone removed, peeled and sliced
½ x shallot, very finely chopped
1/8th x cucumber, diced very finely
2 x tbsp seafood sauce **
½ x tsp tamarind paste
Pinch chilli powder
50g cooked prawns, finely chopped
Balsamic vinegar (lemon juice can be added to avoid the colour change, but it is not as tasty)
Shredded lettuce or raw spinach leaves and quartered cherry tomatoes
Method
Mash the avocado in a small bowl with a fork
Add the shallot, cucumber, seafood sauce, tamarind paste and chilli powder and mix well.
Add the prawns and mix.
Just before serving, add balsamic vinegar to taste and mix well. (Ignore the colour!)
Serve immediately in small glass bowls lined with lettuce or raw spinach leaves and garnish with cherry tomatoes.
The mix, together with lettuce or raw spinach and tomato can be puréed for the severely dysphagic patient.
** Tesco Seafood Sauce is nice and tangy if you do not wish to make your own by mixing:
2 x tbsp mayonnaise, 2 x tsp tomato ketchup, 1 x tsp tomato purée, 1 tsp mustard, 1 x tbsp vinegar or lemon juice, dash Worcestershire sauce, 3-4 drops Tabasco, 1 x tsp olive oil, 1 x tsp brandy (optional), salt and pepper to taste.