Watermelon Cooler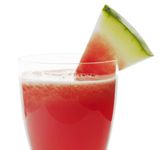 Watermelon is sweet, juicy, low in calories and full of vitamins A and C and potassium. It may not be safe for the dysphagic patient to eat in its natural form as it contains a great deal of water which might cause choking. However, making it into a blended summertime drink then presents it in an acceptable, safe form with the correct viscosity.
If you really like, you can add a small measure of your favourite spirit and make it into a cocktail!! Cheers!
Ingredients
Serves 2-4
½ x ripe watermelon (preferably chilled)
Juice of two oranges or orange juice to taste (preferably chilled)
Pinch ground ginger
Method
Scoop out the watermelon and remove the seeds.
Place the flesh in a tall blender/liquidiser with the orange juice and ginger.
Blend to a smooth consistency.
Chill in refrigerator if necessary.
Decorate with a wedge of watermelon (if suitable for the dysphagic patient) or sprig of mint.
Add a straw and serve.
Variations
Add a handful of blueberries, cranberries or other soft fruit before blending, especially if thickening is required.